Strengthen the team spirit, boost motivation and build trust
Team building as an important stimulator
A wide array of land and water-based team building activities
Fun is the base for successful team building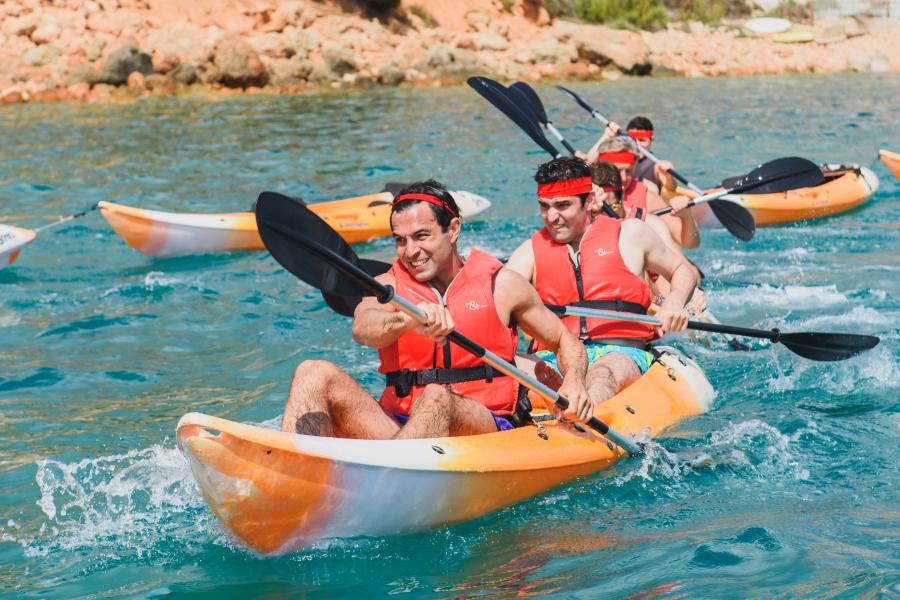 We believe that the team is a company's greatest asset and that it is the foundation on which the work is built. An important factor to success is the happiness of the team, which is expressed in the quality of the work that the company delivers. We offer tailor-made concepts for team building trips to Mallorca, with the goal of improving productivity and motivation in the team. Through a selection of fun and effective team building activities, personal barriers will be broken down and the strengths of each team member will become clear.
Team building as an important stimulator
By taking your employees out of the regular office environment, any form of hierarchy or distraction will be eliminated and the focus will be placed on spending time together as a team. Creating trust amongst the team, learning about each other's strengths, and building on the team spirit, with the final goal being to come back to the office fresh and highly motivated.
A wide array of land- and water-based team building activities
Through its diverse landscape, abundance of sunshine, the surrounding Mediterranean Sea and the impressive mountain range, Mallorca offers the perfect grounds for a wide range of team building activities.
Some of our bestseller team building activities are:
Have a look at our online activity catalogue for a complete overview of the most popular team building activities we offer on Mallorca. Together with a team of qualified outdoor trainers, we will design a completely customised concept based on your wishes and budget.
Fun is the base for successful team building
A strong team spirit is needed to create a motivated and productive team that can trust each other and communicate effectively. While solving a difficult task or tackling an obstacle course, the team will not only have to cross boundaries on a group and personal level, but more importantly will have a lot of fun. All our team building concepts are built around having fun together, away from home in the middle of the beautiful Mediterranean Sea.

We're looking forward to designing your customised team building concept!