Invigorate the team, boost motivation and strengthen trust
Team building as a tool to foster strong connections
A variety of team building activities to suit any preference
Structuring successful team building around fun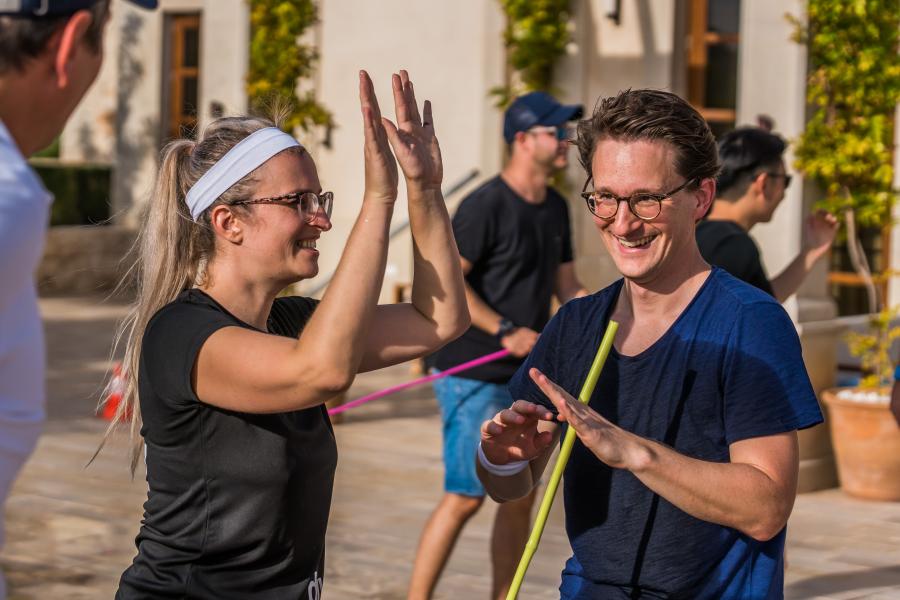 We offer custom concepts for team building trips to Ibiza, ensuring that improved motivation and productivity are a part of the main outcome. Break down personal barriers and amplify the individual strengths of the team through an extensive selection of fun and effective team building activities.
An important factor to success is the happiness of the team, which is evident in the quality of the work a company delivers. That is why we believe that a strong team spirit is a company's greatest asset. It becomes the foundation on which all work is built.
Team building as a tool to foster strong connections
The team building activities will strengthen trust, highlight the individual skills of the members of your team and create a connection based on shared memories of a fantastic experience. With focus being redirected to spending time together as a team, allowing the pressures of an office environment to melt away, your team will return refreshed, motivated and united.
A variety of team building activities to suit any preference
With its groovy culture, stunningly clear waters and beautiful Ibicencan architecture, Ibiza offers the perfect atmosphere for a variety of team building activities.
Some of our most popular team building activities are:
In collaboration with a team of qualified outdoor trainers, we will design a complete and well-considered concept based on your wishes and budget. Discover our popular team building activities by taking a look at our extensive online activity catalogue for an overview.
Structuring successful team building around fun
It is known that strong team spirit is fostered around shared experiences of overcoming challenges and moments in which we let our guard down. Whether it be solving a challenging task or engaging in an obstacle course, the team will have fun while building connections based on trust and shared memories. All of our team building concepts are centred around the idea of creating lasting and fun memories together on a beautiful Mediterranean island.

We look forward to designing your customised team building concept!