"You can have any colour you want, as long as its white"
Quality and flexibility with a private fleet of vehicles
Private event area with a helicopter landing zone
A wide range of event equipment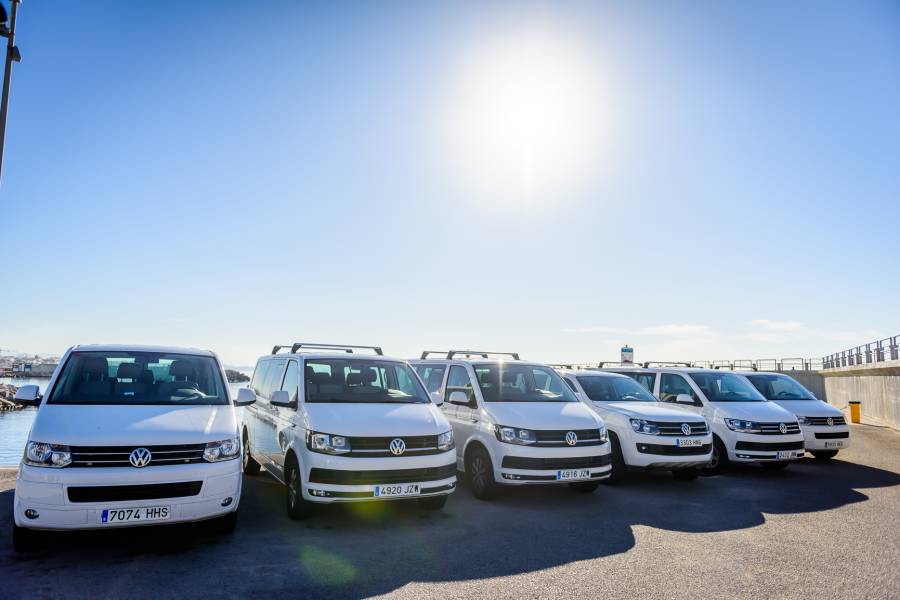 Our own fleet guarantees full flexibility, well-maintained vehicles and complete independence to cater for our clients' needs. In combination with our wide range of event equipment, from catering equipment to decoration to high quality technology and audio-visual equipment, we can turn your event location into the venue of your dreams.  We have everything on hand to make your event unforgettable.
Quality and flexibility with a private fleet of vehicles
With our own fleet we offer the highest quality and a flexible service. We don't depend on third parties and can therefore control even the smallest detail. You'll be personally welcomed at the airport by one of our multilingual agents and taken to your destination in one of our air-conditioned VW multi-vans. We provide the best transfer solution for any type of event, and work along any of your specific needs.
Private event area with a helicopter landing zone
One of our unique selling points is the private 200ha event area we offer at the foot of a UNESCO world heritage site. The beautiful Serra de Tramuntana mountain range. At this wide stretch of rural countryside, we can organise any type of event, from an interactive BBQ or paella cooking workshop, to any form of team building game, to a rustic dinner event with typical Spanish entertainment. For the daredevils, we offer an exclusive off-road park for 4x4 jeeps. To round off the package, the event area has a helicopter landing zone serving perfectly to add an element of surprise to your event. Offer your guests an exclusive helicopter flight over the magnificent coastline of Mallorca, its beautiful olive groves and the city of Palma. This will definitely make a lasting impact!
A wide range of event equipment
Our event equipment options range from water sports equipment, professional photo and video equipment, event decoration, bamboo furniture and stretch tents. All of our event equipment is well-maintained and always in perfect condition. In combination with our professional equipment partners, we create an event set-up that leaves every guest speechless. We offer equipment for any type of event and would be happy to make a tailor-made proposal for you!

Get in touch with us now!