« All News
"I wanted freedom, open air, and adventure. I found it on the sea." Alaine Gerbault, French Sailor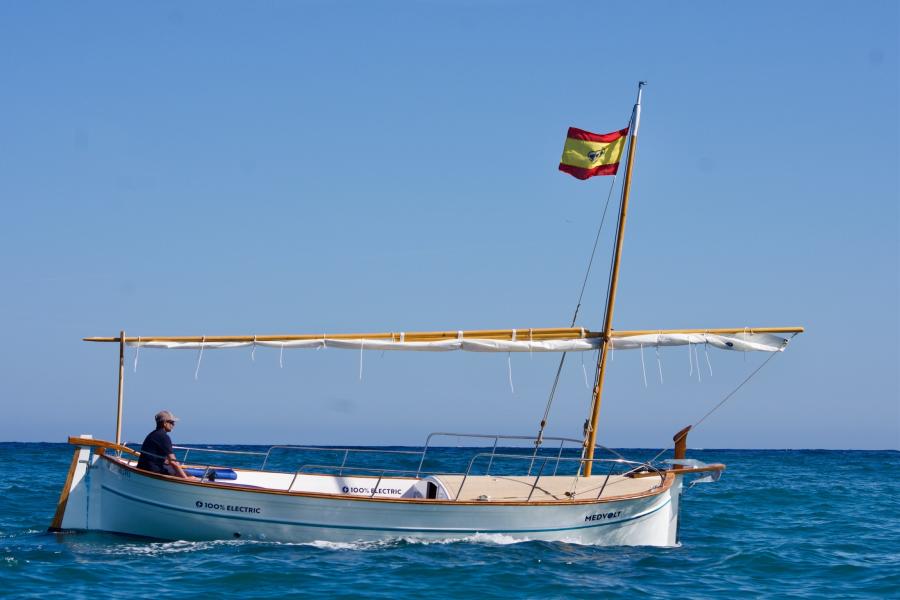 The island of Mallorca has long been the destination of travelers, traders, conquerors, and pirates.  Today the Balearic Islands continue their popularity amongst the most desired travel destinations in the world.
The cultural heritage and natural beauty of Mallorca is precious, and there is a great shift towards developing more sustainable tourism amongst the island's residents and visitors, to actively preserve and protect the beauty and history of the island.
Sailing on a traditionally built, electric Llaut
Leading the way is the ASTOR Llaut, the first electric Llaut in the world. This Llaut honours generations of boat building traditions, by offering an unforgettable sailing experience on board a traditional wooden boat, constructed by local artisan boat builders, whilst ensuring zero-emissions and low environmental impact.
Llauts are the traditional boats of the Balearic Islands which were originally built for trawling, and best known for their stability during unstable weather on the Mediterranean Sea.
With this combination of tradition and innovation, guests are invited to explore the many idyllic coves and crystal waters around Mallorca.
Most notable is the silence. Being a clean energy electric-powered boat, another sense is awakened to guests on board: the sound of the water, the splash of flying fish, seagulls on flight and the nudge of waves against the bough. Breathe the Mediterranean air - no pollution and no fumes.
What to expect?
When renting this unique electric Llaut for a day/half-day, you can expect an unfiltered Mediterranean experience.  Departure is from the private pier of the St. Regis Mardavall, where guests will be welcomed on board by the skipper and will set out to explore nearby coves.
A picnic, packed with a delicious selection of local produce, and drinks will be served (by arrangement), and for those who choose a full-day excursion, they can sail to the marine protected area of El Toro, which is rich in biodiversity, fish nurseries and Posidonia (seagrass) meadows, and ideal for snorkeling. Guests can choose to anchor and enjoy a swim in crystal clear waters, whilst others might prefer to cruise the coastline exploring the island from the sea.