Exclusive stretch tent rental Menorca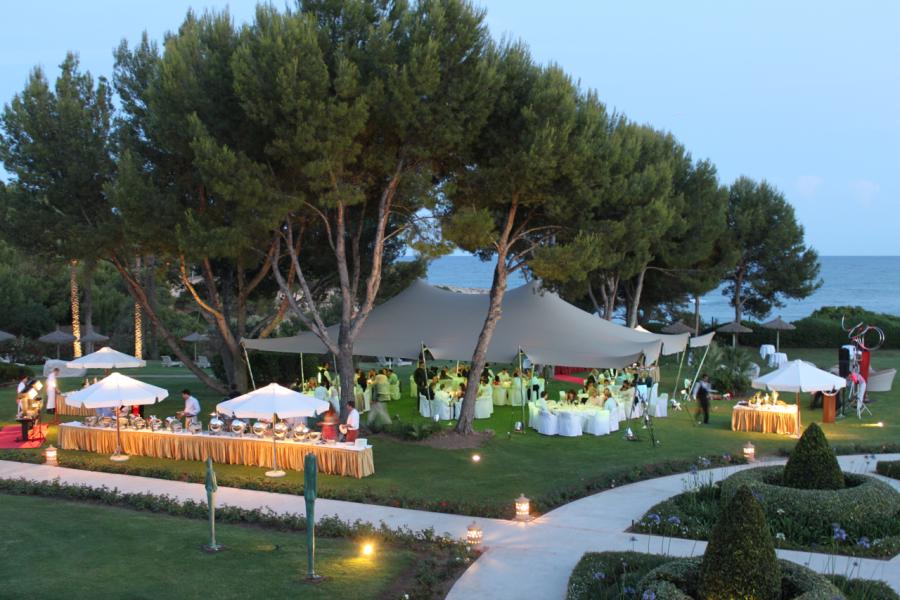 Whether for shade, rain protection or just to create a cozy atmosphere - with our flexible stretch tents, you're always on the safe side. The simple and modern look and the fine neoprene fabric of the tents ensure that your tent is a great addition to every event.
Stretch Tent rental of the Special Kind
The stretch tents can be integrated into almost any location and can also be set up and dismantled spontaneously when the weather changes so that your guests will most definitely keep dry. Depending on the weather, the sides of the stretch tent can also be left open or closed during cold periods.
The following characteristics make our stretch tents an optimal solution for any event:
Waterproof and hyper flexible
Quick and spontaneous setup on almost any surface
Can be integrated into almost any location
Wide range of colours and sizes
Indirect lighting creates an exclusive ambiance
The suitable Stretch Tent for every event
Our stretch tents have a total height of up to six meters, allowing easy integration of fountains, stages or palm trees. Every location is inspected beforehand to ensure a smooth assembly and dismantling process and to adapt the stretch tents individually to the local conditions. Modular tent units can independently be combined with each other and expanded into different shapes and sizes, perfectly adapting to the theme and requests of any event.
Stretch Tent Rental – an unbeatable Extra within the overall Event Package
In addition to providing reliable stretch tent rental offers, LifeXperiences also takes care of the overall organisation of your event so you do not have to worry about anything. We offer you an all-round service and are your experienced point of contact for all on-site event services.
Starting with the corresponding equipment including dinner and lounge furniture, the installation of light and sound systems through to personalised catering and exciting entertainment, we offer professional event management with all services from a single source. Benefit from our many years of experience within the event sector on the Balearic Islands.

We are happy to advise you personally on site!