An phenomenal ambiance at any location
Exquisite yet functional stretch tents
The versatility of stretch tents
Utilising stretch tents to transform the ambiance into something magical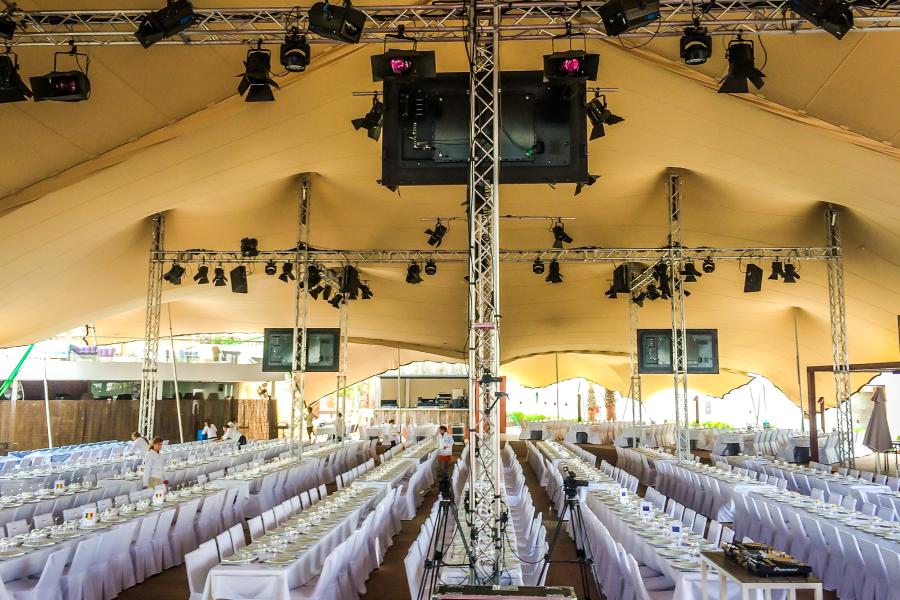 Our stretch tents are unparalleled coming in different colours, shapes and sizes. The tents can provide shade for any sunny event, create an exceptional atmosphere and even be used as back-up in case of bad weather. As they are made of highly elastic neoprene material, the tents are water and windproof. The tents can reach heights of up to six meters. This means that complete stages, fountains or palm trees can be placed underneath.
The versatility of stretch tents
Stretch tents allow for a lot of flexibility. They are easy and quick to set up, a perfect solution for unexpected bad weather. The resilient elastic material ensures that the tents are water and windproof. Due to the variety of colours, shapes and sizes, the tents can be seamlessly integrated into the location. With the right lighting and decoration, the stretch tents also have the capability of creating an incredible ambiance bringing a special touch to your event.
Utilising stretch tents to transform the ambiance into something magical
Apart from providing shade during a sunny event or shelter from bad weather, the stretch tents are the ideal option for creating a unique atmosphere at your event. With the use of professional lighting and stylish decor, your event will be like no other. We would be delighted to take care of any detail; whether it be organising a stage, professional AV equipment, furniture, catering or entertainment.
Interested in renting one of our stretch tents?

Get in touch!