« All News
Sustainability and corporate events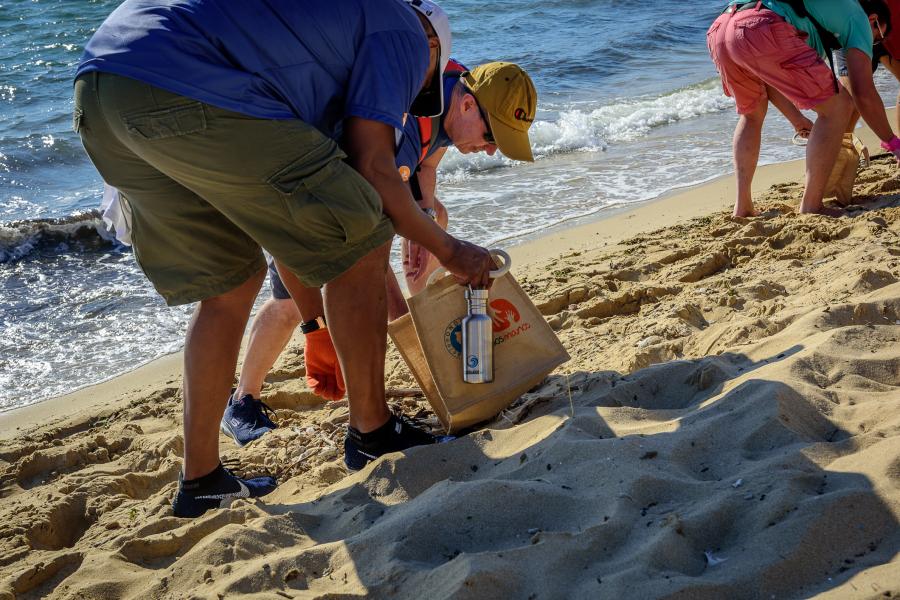 According to Greenpeace, 1.5 million plastic bottles are consumed each day in the Balearic Islands. Only 18% is recycled, the remaining 1 million bottles are unaccounted for; many of which end up in the sea. In order to counter the growing pollution of plastics and microplastics, to raise awareness of this global problem and to provide concrete opportunities for action, the non-profit organization cleanwave.org was founded this year by LifeXperiences.
Although sustainability and events and incentives are hard to reconcile, the team at LifeXperiences sees the prevention of plastic waste as the first step towards reducing the environmental footprint of incentive travel and company events.
For this reason, LifeXperiences has committed to no longer using plastic bottles at any of their events, meetings or incentive trips. On arrival at the airport, guests are offered a pre-filled water bottle - certified, sustainably produced, stainless steel bottle, printed with their organisations logo. Water refill stations are provided throughout the event; at all transfer points, in the hotel and in meeting rooms, ensuring that guests have full access to water. This model also requires that guests take responsibility for own water consumption, thereby raising awareness of the growing urgency of plastic pollution in the Mediterranean.
Cleanwave.org has established a network of likeminded businesses partners, restaurants, hotels and shops throughout the islands of Mallorca and Ibiza, who have joined the plastic free movement by setting up free water refill stations, where people can refill their water bottles, rather than buying a single use plastic water bottle. This model is especially interesting for hotels, who can leverage their meetings and congresses, to provide a plastic free solution to their clients.
Many corporate clients visiting the Balearic Islands, believe it is becoming increasingly important to leave a zero-waste footprint. In line with our plastic-free event policy, LifeXperiences offers clients the opportunity to integrate environmental consciousness into the events activities program. For example, employees are encouraged to participate in a beach cleaning, where after the waste is sorted, categorised and recorded as scientific data by local environmental NGOs who are tackling the issue of plastic waste.
For example, during a recent incentive event for an innovative corporate client with 180 guests, LifeXperiences combined an exclusive GPS iPad Cabrio Island Tour with a beach clean. All guests were asked to refill their water bottles prior to departure, from our Cleanwave mobile water unit ? an iconic ?super-sized? bottle, holding 800 litres of water. This also gave the opportunity to share more information about the issue of plastic pollution in the Balearic Islands with the client, and a chance to answer many interesting questions on the topic.
The topic of sustainable tourism is a growing priority for LifeXperiences. The challenge, and opportunity, is to combine the culture of corporate events, conferences and incentive travel, with social and environmental sustainability. Especially on an island such as Mallorca, where the natural resources are limited and need to be preserved, the road ahead is still very long. However, as we work alongside Cleanwave.org in our commitment to zero-plastic events; we continue to look for new opportunities and a future of electric cars, clean tap water, better recycling, less waste and more marine reserves.