« All News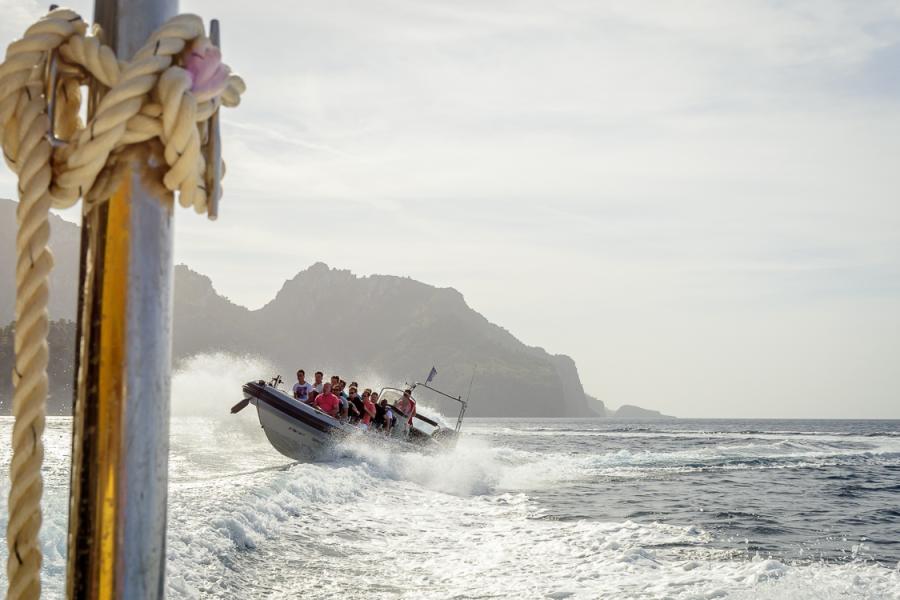 In June 2012 the LifeXperiences team welcomed in total 299 international guests to Mallorca, facilitating tailormade programmes designed and organised to suit the needs of each individual group.
Each group with up to 89 persons experienced unique incentive highlights, including outstanding dinner locations, spectacular entertainment and unforgettable experiences.
From helicopter flights to speed boat transfers, from water sports to racing car driving, each activity was supplemented with outstanding dining locations and BBQ?s in an isolated creek at the water?s edge.
We organised the following itinerary for one of the groups:
An arrival at the airport, guests were picked up on Trikes and transferred to a picturesque restaurant at the water?s edge, where they were given a chance to relax, have a snack and smell the breeze of the Mediterranean. Then on board our LifeXperiences-RIB, the guests were transferred to 2 catamarans anchored in the nearby bay. They enjoyed an afternoon of water activities, including water ski, wake board and jet ski, and had the opportunity to explore the underwater world by snorkeling. A barbecue was served on board and at sunset the guests were transferred to their hotel to unpack and prepare for the evening?s dinner. The magic continued as they were transferred to a beautiful, historic wine farm, where dinner was served with live music and entertainment.
The second day began with adrenalin, as guests were tranferred to the race course where they could burn off their need for speed in racing cars, drift taxis and Formula Juniors. Speed was followed by an off road challenge in a Hummer at the Off-road Park. The afternoon was at leisure, whether it was a round of golf or personal shopping in Palma ? a moment to simply enjoy the liberty of time! The evening?s dinner events continued at a beautiful restaurant directly at the water?s edge, to the sound of a saxophonist and the setting sun.
The last day?s highlights began with a helicopter flight to a hidden beach on the island?s east coast. From there guests were transferred by speedboat to a rustic Mallorquin restaurant for a memorable meal. Once again speedboats transfered the guests to Soller, where a fleet of Old Timers were waiting for them, and on a scenic drive they returned to their hotel.
The evening?s entertainment was timed with the sunset, an exclusive dinner was served with unforgettable art performances that ended off a memorable event!
On their last day, guests waved goodbye to the beautiful Mediterranean island which offers multifaceted experiences and in pleasant anticipation of the next incentive trip to Mallorca.
After some eventful weeks in June the LifeXperiences team is once again gearing up for the next upcoming challenges and preparing new tailormade incentives on Mallorca.